English version just after the french...
• La nuit dernière, j'ai pu faire non sans mal V718 Sco avec l'eShel, basse sur l'horizon et avec quelques nuages ici et là….
Mais l'on voit bien l'outburst en le comparant avec le dernier spectre HR dans Bess (non corrigé de la vitesse héliocentrique), un spectre de Joan du 1er juillet 2016.
Un autre spectre plus récent en basse résolution, obtenue par Daniel Dejean (du 8 mai 2017) montre que la raie H Alpha était encore en absorption.
Donc une cible à suivre....
• Last night, I have take V718 Sco with the eShel in bad conditions, low on the horizon and with some clouds here and there ....
But we can see the outburst by comparing it with the last spectrum HR in Bess(not corrected from heliocentric velocity), a spectrum of Joan taken the 1st July 2016.
Another more recent low-resolution spectrum, obtained by Daniel Dejean (May 8th, 2017) shows that the H Alpha line was still in absorption.
So a target to follow ....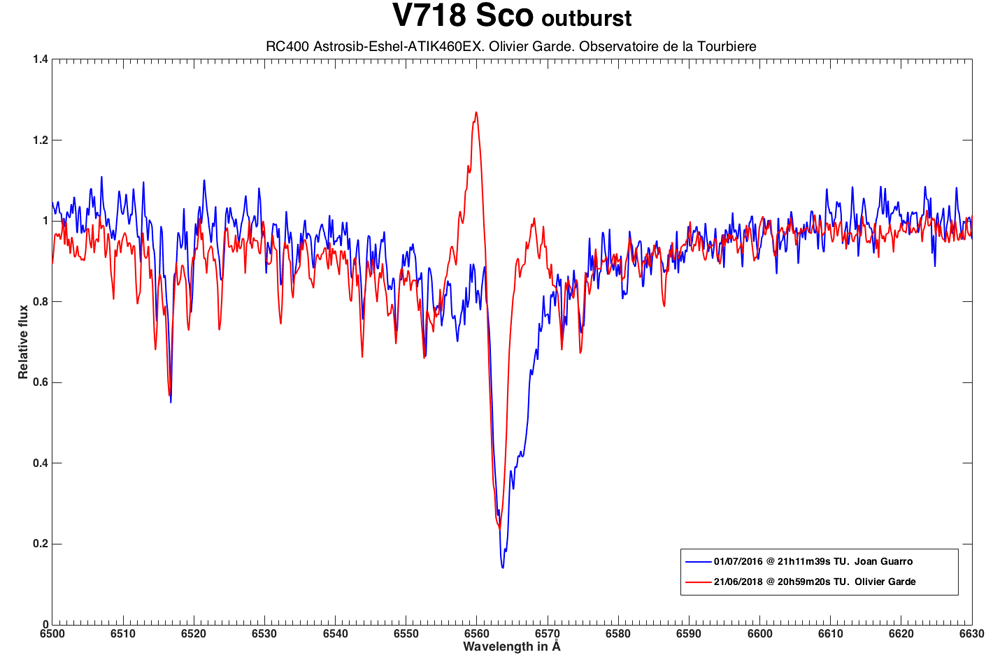 Spectre de Daniel réalisé le 8 mai 2017
Daniel spectrum taken the 8th may 2017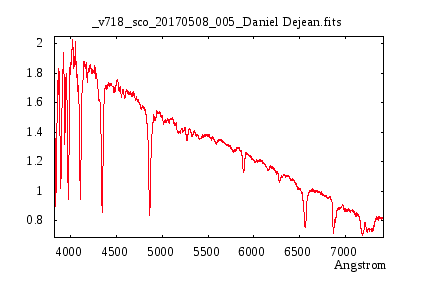 et dans le même genre de phénomène, un autre outburst d'une Be que j'ai trouvé 2 jours avant :
viewtopic.php?f=14&t=2047
and in the same kind of phenomenon, another outburst of a Be star that I found 2 days ago :
viewtopic.php?f=14&t=2047
Donc ne pas hésitez à aller à la chasse à l'outburst

So do not hesitate to go to "outburst hunting"